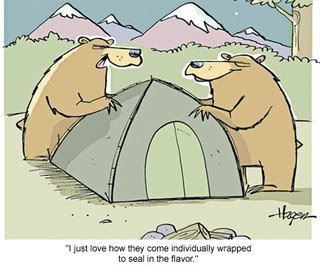 The most powerful strom dumped at least 4 inches of rain last night and the water level rose to a near flooding point. aFTER THE ( 5 IN TOTAL AS MORE COMPANY ARRIVED AT THE NEIGHBORING SITE)left yesterday , just as I was exhaling to start my vacation 5 days later.... the rain came. There wer not any trees down in the campground but after once being in amonsoon in Tucson in the Santa Catalina's in August I was so frightened I hardly slept. The same night when I saw Koko Taylor perform....
Now that was back in the early 90's and I am barely 40!
There was a 4 inch deep flood running last under the campsite and we had weighed down our tent with granite and climbed into Josh's pop up which we made a ramp up for. It sounded like the crest of the river would take us if we fell asleep. I am still freaked out. NOONE was anywhere near us ... everyone else left. Well not these two stone masons or me nor my handicapped dog. In fact Ginger took off to hide way up at the entrance in their rec room under the broken old Playboy pin ball machine with a young looking Hugh Heffner that looks like something from a Pawn Stars episode. I WISH I had a camera...
I am so thankful that Josh was here after all of the complaining I had done about hosting him, his kid, his friend, an dhis friend's 3 add boys and then our own.Watching a slight 3 year pld boy scurry up enormous granite rocks with NO concern for pitch or height darting back and forth to a campfire and running in the dark with flaming fire pokers ( times 5 boys) is harrowing AND fun. People are here on site though still and tents are upside down drying out once you walk towards the restrooms and middel of the grounds. The RV's or 5th wheels are unchanged and parked in the same direction as yesterday. I need coffee. I am hoping my stuff is dry now so I can write in my journal, knit like a granny and FINALLY get my serenity ON.
THe ONE hour that was spent doing how this little trip was sold to me as however was AMAZING. HAving to leave to do the rest of this was not....
WE managed to show up for His friend to support his newest band and forthcoming cd release Mr. Nick and the Dirty Tricks. They opened the White Mountain Boogie N Blues Festival 2011 and the Popa Chuby came on and I grabbed Dan's Camera and got about five pictures in before he joy killed THAT and sputtered about me breaking it.
ALL of Nick's pictures ARE CRAP, blurred and just shit. But I am NOT saying a word because I don't know ANYTHING. A common statement in our relationship...